New Paradigm Business Consulting
So what's New Paradigm Business, anyway?
It's the future of business. It's a whole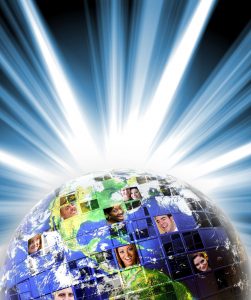 new organizational structure and way of interacting. The face of business is changing and shifting dramatically, redefining how it will operate. Laura also refers to New Paradigm Business as the Evolution of Business. There are new ways in which businesses and employees can collaborate and create together to create far greater results than ever. There are already businesses operating in a whole new way not only in the U.S. but around the world.
Everywhere you turn, there are either challenges and 'breakages' in traditional business. The hierarchies upon which they were built are no longer sustainable as we move into a whole new era.
Both the scientific and the spiritual worlds are revealing how much more productive and happy employees are when they're doing their passion for their job. More than 40 years of research and Gallup Poll data has launched StrengthsFinder within the last few years.
Did we really need scientific studies to reveal this? How about employees becoming equal stakeholders? What a revolutionary — and hugely successful — model it would be were everyone to come together to create in a whole new way.
It's not just a theory, it's being employed in a growing number of businesses around the world. Laura Jackson operated within a successful business New Paradigm Business model, with years of sweat equity. She shares her personal experience of operating within this fluid, equal and sustainable structure.
If there were ever a time for future visioning and collaboration building, it is now. Times of great change are upon us. Organizations, including non-profits, non-governmental organizations (NGOs) and humanitarian-based organizations, can have a greater impact within our global community through building collaborations and alliances. If all organizations are likewise prepared for changing times, they will be positioned to rise gracefully above the outer appearance of chaos in the world and working within the new framework of tomorrow.
Now is the time to begin to grow the foundation your organization has established. Soul Action brings a unique perspective with both business and intuitive expertise. Through advising, facilitating and consulting you'll receive solutions and opportunities that can transform your organization's mission and propel forward growth.
Soul Action:
Building Alliances and Bridging the New Paradigm Community.
Preparing your Organization for Tomorrow.
Whether your organization has individual needs or would benefit from a comprehensive assessment, we will work with you to see where you are and where you would like to be.
Creation or clarification of mission.
Alignment of the organization's mission, vision, objectives and operations.
Strategic positioning.
Future visioning.
Collaborative partnerships.
Creation of "Soul Action" plan.
Implementation.
Soul Action offers additional insights.
Communications.
Building global alliances.
Digital solutions for a Global community.
Grassroots activism.
Building your New Paradigm network.
Understanding your role in the New Paradigm Community.
A Call to Action — Calling all Non-Governmental Organizations (NGOs).
Understanding your role in the New Paradigm Community.
In rapidly changing times, there is an unprecedented need to collaborate in the allocation and provision of today's resources for tomorrow's needs. In particular, humanitarian and non-governmental organizations will lead the way. Soul Action is here to support and assist you in bridging that gap.